Every Adventure enthusiast loves waterfalls. Even people who are not big nature lovers are also into waterfalls. There are scientific reasons that waterfalls make us happy. It releases negative ions that we soak up as positive energy. Which, once entered into our bloodstream, releases serotonin hence making us happier. It also activates our three senses which can't be said for others. The sight, the hearing, and the smell. It pleases all three senses and makes us feel relaxed. So here are some waterfalls that you don't want to miss in Austin: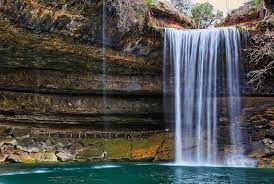 The Twin Falls is located at the Barton Creek Greenbelt. It is one of the most popular waterfalls in Austin. Locals visit this waterfall throughout the year. This is a beautiful spot if you want to chill and spend time with your family and friends. You can sit here for hours and enjoy the soothing noise of the waterfall. Another exciting thing is that it has a swimming hole where you can jump and swim. The best time to visit this place is just after a rainfall when it's full of greenery, and the stream is going strong.
Hamilton Pool Preserve is located a little on the outskirts of Austin. This is a beautiful waterfall that will definitely blow your mind. One of the exciting things is that it never dries up. Even the swimming hole, which is nearly 50 meters high, never seems to get dried. This historic place in Austin is open to the public even if the swimming might be closed. Swimming can be restricted here depending on the bacteria and the rainfall level. It's located at 24300 Hamilton Pool Rd.
McKinney Falls is located at 5808 McKinney Falls Pkwy. If you are looking for a waterfall with different fun activities, this is the place for you. It's a vast place. So it's not going to feel overcrowded with many people in it. McKinney has several fun activities like camping, hiking, fishing, and many more. You can also come here for picnics, as there are picnic tables, group shelters, and screened shelters. They are also very helpful staff to assist you with any difficulty.


Texas Shuttle will help you plan your rides to these mesmerizing waterfalls in Austin. You can book our Dallas to Austin shuttle service. We will pick you up and drop you off at your exact locations. Almost all rides are non-stop in nice cars, SUVs, or shuttles. We are available 24/7. You can also change the time or date with us without being charged. There's less hassle, and you save more money with us. The Texas Shuttle is safer, affordable, flexible, and more convenient than any other ride. Book a ride with us this season to experience that warm and stress-free holiday vibe. It even reduces the unwanted cost incurred on the fare of taxis and buses to reach home. We provide professional chauffeurs with uniform and clean vehicles. Our mission is to create lifetime customer loyalty by exceeding our customer's expectations in terms of service.