Are you planning to spend your weekend having fun? Waterparks definitely take the place to have fun on the weekend. Austin has some of the best waterparks for you to enjoy with your family and friends. There are so many rides for all age groups that you will never feel left out. There's something for everyone. Waterparks are the best place to keep your worries behind and enjoy your heart out. They guarantee fun, laughter, and enjoyment. They also create many fun memories with your families and friends. We all like to have fun in the rain. This is the perfect place to do it. To get wet and go crazy with all the rides. Here are a few Waterparks in Austin that you must visit: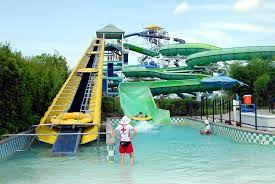 Located at No.71, Jalan Austin Heights 8/1 is one of the best waterparks in Austin. You can spend your entire day doing fun activities. This place has a theme too. They have a tropical theme in the park which means they have tropical plants and trees all around, giving you a charming atmosphere. There are many water rides for different age groups. You can find delicious food and drinks for you to enjoy.
Typhoon Texas is one of the most popular and welcoming waterparks in Austin. This place is enormous and has many slides and water rides to fill your heart with joy. You can easily spend your entire day without even noticing the time passing. They also have a place to cater to your food and drink requirements. Sometimes they also have live music shows at Tide Wave Bay. They also hold big group events like school, company, or birthday parties.
Rock n River Waterpark is a great place to go during winter to cool yourself off. It's located at 3300 E Palm Valley Blvd. The place has many fun activities, including Splash Ville and different water rides. You can also rent a cabana and chill out while your kids enjoy their rides. The place also offers fantastic food and drink to gulp on after all these rides and activities.

Texas Shuttle will help you plan your ride to these fun and exciting waterparks in Austin. You can book our Dallas to Austin shuttle service. We will pick you up and drop you off at your exact locations. Almost all rides are non-stop in nice cars, SUVs, or shuttles. We are available 24/7. You can also change the time or date with us without being charged. There's less hassle, and you save more money with us. The Texas Shuttle is safer, affordable, flexible, and more convenient than any other ride. Book a ride with us this season to experience that warm and stress-free holiday vibe. It even reduces the unwanted cost incurred on the fare of taxis and buses to reach home. We provide professional chauffeurs with uniform and clean vehicles. Our mission is to create lifetime customer loyalty by exceeding our customer's expectations in terms of service.