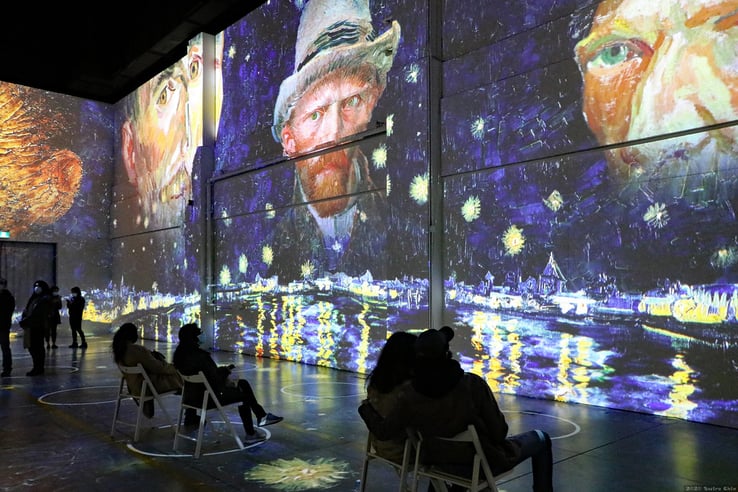 We all know about Vincent Van Gogh. He is the famous Dutch painter. There's no art lover who doesn't know about him and his life. He was born in the year 1853 and died in 1890. He is considered one of the greatest artists of the Post - Impressionist. His contoured forms, striking colors, and empathetic brushwork strongly influenced the current of Expressionism in modern Art. Van Gogh was the eldest of six children. He didn't get much recognition while he was alive. Only in the later phase was the value of his art-recognized, and never died since. In fact, he had a very tragic and isolated life.
You can experience his artwork in the Van Gogh Exhibit: an immersive experience open in many locations. One of the locations is in Dallas. This exhibition has been touring since 2017. They have more than 500,000 visitors. It's a unique experience. You will feel like you are stepping inside a painting. You can experience the following things in the exhibit:
1. The Immersive Room
It's a 20,000 sq. ft. exhibit. It's a spectacular two-story projection of the artist's most compelling works.
2. VR Experience
You also have the Virtual Reality experience of walking with Van Gogh through his inspiration. It's a visually rich journey behind the inspiration of eight of Van Gogh's artworks, including Starry Night over the Rhone and Vincent's Bedroom at Arles.
3. Rediscovering Art
The exhibit also reinvents the concept of the museum. You get to know the artist and his Art through cutting-edge technology and exquisite storytelling.
4. Paintings on Display
One of the exciting things you can do is put your paintings on display. It's amusing to see your work in such an ample space. This is an experience enjoyed both by kids and adults.


Information Details
It's open Monday, Wednesday, and Thursday from 10 am to 7 pm. They also have Yoga and Art workshops from time to time. The visit will take you around 60 - 75 minutes. The ticket prices start at $34.90 for adults and $19.90 for children. All ages are allowed, and it's also accessible for wheelchairs. You can also book the place for private or corporate events.

Texas Shuttle will help you plan your ride to these unique Van Gogh exhibits in Dallas. You can book our Dallas to Austin shuttle service. We will pick you up and drop you off at your exact locations. Almost all rides are non-stop in nice cars, SUVs, or shuttles. We are available 24/7. You can also change the time or date with us without being charged. There's less hassle, and you save more money with us. The Texas Shuttle is safer, affordable, flexible, and more convenient than any other ride. Book a ride with us this season to experience that warm and stress-free holiday vibe. It even reduces the unwanted cost incurred on the fare of taxis and buses to reach home. We provide professional chauffeurs with uniform and clean vehicles. Our mission is to create lifetime customer loyalty by exceeding our customer's expectations in terms of service.