Texas, renowned as the Lone Star State, invites you to uncover its intriguing mysteries and embark on an exceptional expedition with the reliable guidance of Texas Shuttle. Prepare yourself for an extraordinary voyage that will unveil the concealed treasures and enigmatic allure of this remarkable and culturally diverse state. Let's delve into the intriguing mysteries within Texas's heart.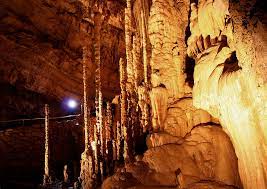 The Enigmatic Marfa Lights
Prepare to be mesmerized by the enigmatic Marfa Lights, a paranormal phenomenon that has intrigued and baffled visitors for decades. Witness these mysterious glowing orbs dancing in the night sky as you venture to the remote town of Marfa. Texas Shuttle's convenient transportation service ensures you get this unexplained natural wonder.
Unearthing History at The Alamo
Immerse yourself in the rich historical significance of The Alamo, a symbol of Texas' fight for independence. Explore the grounds where legends were born and immerse yourself in the stories of heroism and resilience. Texas Shuttle's shuttle service will ensure you arrive at this iconic landmark with ease, ready to discover the secrets it holds.
The Intriguing Caverns of Natural Bridge
Descend into the depths of Natural Bridge Caverns, a hidden underground world of awe-inspiring beauty and geological wonders. Marvel at the intricate formations and underground chambers as you uncover the mysteries carved over millions of years. Texas Shuttle's reliable transportation service will safely take you to this captivating subterranean realm.
Ghostly Encounters in Jefferson
Experience the eerie charm of Jefferson, a town known for its ghostly encounters and haunted history. Take a chilling ghost tour through the streets of this historic town, where paranormal tales intertwine with Southern charm. Texas Shuttle's shuttle service ensures a comfortable and convenient journey to this haunted hotspot.
The Legends of Big Bend National Park
Venture into the untamed wilderness of Big Bend National Park, where legends come alive amidst rugged canyons, towering mountains, and the winding Rio Grande. Hike through the majestic landscapes, marvel at ancient rock art, and connect with the raw beauty of nature. Texas Shuttle's transportation service provides a hassle-free way to reach this iconic national park.
Texas is a land of captivating mysteries waiting to be discovered and unraveled. Embark on an extraordinary expedition through the enigmatic wonders and hidden treasures of the Lone Star State with Texas Shuttle as your reliable travel partner. Prepare for an unforgettable journey filled with captivating experiences and unforgettable discoveries. Let the wonders of Texas unfold, from the mysterious Marfa Lights to the historic Alamo and the enchanting Natural Bridge Caverns. Book your adventure with Texas Shuttle and let the mysteries of Texas reveal their secrets to you.