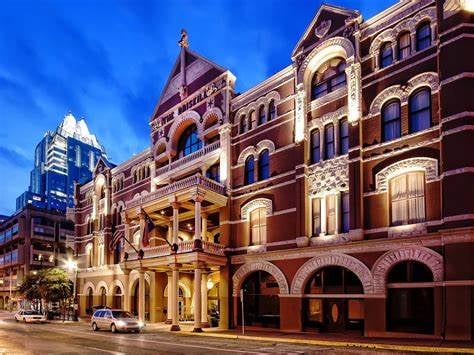 This river walk is the no. 1 attraction in texas. The river walk was the vision of Robert H. H. Hugman, a young architect. The place hosts various shows, including Winter Artisan Show, Bud Light Mardi Gras Festival & River Parade, St. Patrick's Day Artisan Show, The Texas Cavaliers River Parade, and many such regular events.
Texas State Capitol — Austin
The Texas State Capitol is the seat of government of the American state of Texas. The place houses the offices and chambers of the Texas Legislature and the Governor of Texas. It is 302.64 feet (92.24 m) tall, which makes it the sixth-tallest state capitol. The construction began in 1882 and lasted till 1888 under the direction of Reuben Lindsay Walker.
The museum works to preserve the general knowledge of natural science. It was founded in 1909 to enhance everyone's lives. The museum features various exhibits, a butterfly center, a planetarium, and a giant screen theater. The shows include topics such as space science, Native American culture, paleontology, energy, chemistry, geology, seashells, and Texas wildlife, alongside a slew of rotating special exhibitions.
The zoo was founded in 1909 and is spread over 64 hectares of land. The zoo features more than 7,000 exotic and native animals. It focuses on giving the visitors a closer experience of the wildlife and their natural habitat. You can explore the area on a train and enjoy different rides.
Plan your visit to Port Aransas Beach with your family to cool off the scorching heat. The beach area is well-maintained; you can enjoy building a sand castle, swimming, and various water sports.
The cave formations are one of a kind and formed by single water droplets. While you enter, you can explore their hidden passage tour, where shadows dance over delicate formations and mystery awaits in every shadow. Other adventures include an outdoor maze, twisted trails, and many more.
Their mission is to engage people with animals to give them a clear picture of the world underwater and support wildlife conservation. The exhibitions include the underwater world, the jungle habitats, and many other creatures. There are various exhibits, shows, presentations, and many educational programs. So spend your day learning the wonders.
Texas shuttle is at your service 24/7, assuring the safest trip. We run background checks on all our drivers nationwide. We offer SUVs, shuttle service, and pre-booked luxury cars. Our drivers will pick you up and drop you off at any address mentioned. Give yourself the vacation you deserve and book your ride. For more information, contact (817) 403-6196.