As the temperatures start to rise in Texas, many people are starting to think about fun activities to do in the sun. One popular option for Texans and visitors alike is visiting the many beautiful beaches that line the state's Gulf Coast. With its warm, clear waters and miles of soft sand, Texas is home to some of the best beaches in the country. Here are some of the top beaches to visit in Texas in May.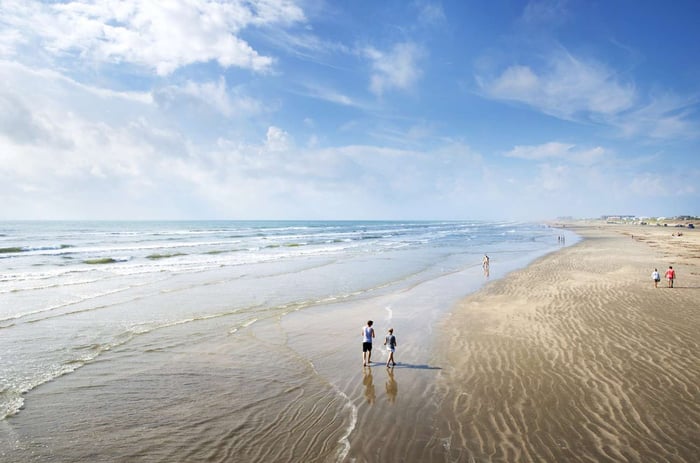 South Padre Island
Located on the southernmost tip of Texas, South Padre Island is a popular destination for beachgoers. With over 30 miles of beaches, there is plenty of space to spread out and enjoy the sun. South Padre Island is also known for its excellent water sports, such as surfing, windsurfing, and kiteboarding. Visitors can take a shuttle service to the island or drive down from the cities.
Galveston Island
Located just an hour south of Houston, Galveston Island is a great destination for a day trip or weekend getaway. The island features several miles of beautiful, sandy beaches, as well as a wide range of restaurants and attractions. Visitors can take a shuttle service to the island or drive down from the cities.
Padre Island National Seashore
The longest undeveloped barrier island in the world, Padre Island National Seashore is a stunning stretch of beach that runs for over 70 miles. Visitors can enjoy swimming, fishing, birdwatching, and camping in this unspoiled natural environment. However, due to its remote location, visitors should plan ahead and bring plenty of food, water, and supplies.
Rockport Beach
Located on Aransas Bay, Rockport Beach is a popular spot for families and nature lovers. The beach features a large pavilion, picnic areas, and playgrounds, as well as a saltwater lagoon that is perfect for swimming and kayaking. Visitors can also take a stroll along the nearby Rockport Beach Park and enjoy the beautiful views of the bay.
Mustang Island State Park
Known for its rolling sand dunes and turquoise waters, Mustang Island State Park is a favorite among locals and tourists alike. Visitors can enjoy swimming, sunbathing, and birdwatching, as well as hiking and fishing in the nearby marshes. The park also offers camping sites, cabins, and RV hookups for those who want to spend the night.
No matter which beach you choose to visit in Texas, be sure to pack plenty of sunscreen, water, and snacks. It's also a good idea to bring a hat, sunglasses, and a beach umbrella to stay cool in the hot sun. With its beautiful beaches and warm weather, Texas is the perfect destination for a summer getaway. So, grab your friends and family and head to the beach for some fun in the sun!
With these tips in mind, you're ready to explore Texas wine country in May. Be sure to visit some of the top vineyards and tasting rooms, such as Messina Hof Winery, Fall Creek Vineyards, and Becker Vineyards, to name a few. Cheers to a fantastic wine-tasting adventure in the Lone Star State!
Using our Texas shuttle service for your beach trip can make your experience much more convenient and stress-free. You won't have to worry about navigating through traffic or finding parking near the beach. Instead, you can sit back and relax while our shuttle service takes care of the transportation. Plus, with our shuttle service, you can enjoy the company of your friends and family on the way to the beach without the hassle of driving multiple cars. It's a great way to make the most of your beach trip without any added stress.