If it's in Texas, it has to be bigger and better. Architects followed that motto when designing the Capitol Building in Austin. It was once the tallest capitol building in the United States. Others may be taller now, but this is still a lovely structure that showcases many of Texas' natural resources, such as limestone and landscapes.
The granite Texas statehouse is a testament to the Lone Star State's history. The Texas Capitol is widely regarded as one of the most distinguished state capitols in the country.
Austin is home to the Texas State Capitol, the state's fourth building and the seat of the Texas government. Lindsay Walker oversaw the construction of this magnificent structure from 1882 to 1888. It first opened to the public on April 21, 1888, on San Jacinto Day. The Texas State Capitol building, designed by Elijah E. Myers, is the largest of the State Capitol buildings. The Renaissance Revival architecture of the building is well-known. It is a one-of-a-kind example of late-nineteenth-century public architecture, with round arches, classical orders, and asymmetrical composition.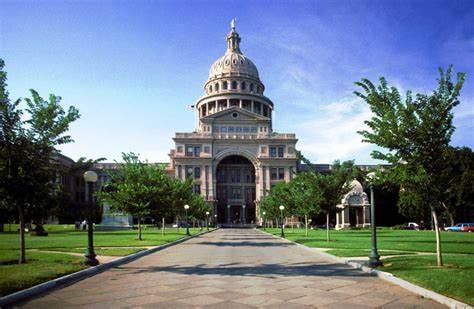 Design And Features
The State Capitol Building's structural exterior is made of 'Texas Pink Granite,' now marketed as "sunset red" granite. The rotunda, which also functions as a "whispering gallery," houses portraits of all Texas governors. Sculptures by Stephen F. Austin and Elisabet Ney of Sam Houston grace the lobby of the building. The Texas State Capitol stands nearly 15 feet (4.5 meters) taller than the National Capitol and has the most floor space of any Capitol building. The granite Ten Commandments monument, which was the focus of a 2005 U.S. Supreme Court case, Van Orden v. Perry, is a significant attraction on Capitol grounds.
The Texas State Capitol Building is located on the highest point in Austin. Its southern façade provides a breathtaking view of the Colorado River and anchors the northern outskirts of the downtown commercial district. The University of Texas at Austin's main campus is only four blocks away. The Texas State Capitol Complex is a popular tourist destination in the heart of downtown Austin.
Texas Shuttle will assist you in planning your trips to the Texas State Capitol in Austin, Texas. We will pick and drop you off at the specified locations. Almost all rides in nice cars, SUVs, or shuttles are nonstop. We are available around the clock. You can also change the time or date with us for free. With us, there is less hassle, and you save more money. The Texas Shuttle is more secure, affordable, flexible, and convenient than any other mode of transportation. Book a ride with us this weekend to have a fun and productive weekend.