If you're looking for a fun-filled and unique spring event, look no further than Texas Sand Fest 2023. This annual festival takes place on the beaches of Port Aransas and brings together talented artists worldwide to create stunning sand sculptures. But that's not all – Sand Fest celebrates live music, great food, and all-around good times. Read on to learn more about this exciting event and how Texas Shuttle can help you get there.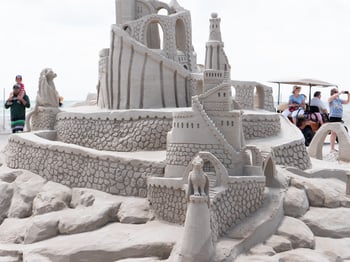 What is Texas Sand Fest?
Texas Sand Fest is an annual event held in Port Aransas, Texas that celebrates the art of sand sculpting. Over three days, visitors can watch as talented artists from around the world transform simple piles of sand into breathtaking works of art. From intricate castles to lifelike animals, the sculptures at Sand Fest are genuinely awe-inspiring. But there's more to Sand Fest than just sand sculptures. The festival also features live music from local and regional bands, as well as a variety of food and beverage vendors. Plus, plenty of other activities keep visitors of all ages entertained, from sandcastle-building competitions to face painting and more.
When and Where is Texas Sand Fest 2023?
This year's Sand Fest is scheduled for April 14-16, 2023, and will be held on the beaches of Port Aransas, Texas. The festival occurs rain or shine, so check the forecast and prepare for the weather. Gates open at 9 am daily and close at 6 pm on Friday and Saturday and at 5 pm on Sunday.
Getting to Texas Sand Fest with Texas Shuttle
If you plan to attend Sand Fest this year, why not make the journey as easy and stress-free as possible by using Texas Shuttle? Our shuttle service provides convenient and affordable transportation to Port Aransas and other destinations across Texas. You can relax with comfortable seating and friendly drivers while we care for the driving. Plus, by choosing Texas Shuttle, you can avoid the hassle and expense of finding parking near the festival. Our shuttle drops you off right at the entrance to Sand Fest, so you can start enjoying the fun immediately. And when it's time to head back, we'll be waiting to take you safely and comfortably back to your starting point.
Book Your Texas Shuttle Trip to Texas Sand Fest 2023 Today
Take advantage of the fun and excitement of Texas Sand Fest 2023. Book your shuttle service with Texas Shuttle today and enjoy a stress-free journey to the festival. With affordable rates, comfortable transportation, and friendly service, Texas Shuttle is the perfect choice for your Sand Fest adventure. Visit our website to discover more and book your trip today.
Whether you're a sand sculpting enthusiast, a live music fan, or just looking for a weekend getaway, Sand Fest has something for everyone. Texas Sand Fest 2023 is an event you will want to attend, and with Texas Shuttle, getting there has always been challenging. So book your trip today and get ready to experience the magic of this incredible festival.