Texas is not only famous for its vibrant art scene but also for its diverse and delicious cuisine. The state hosts a multitude of food festivals that celebrate the rich culinary traditions and flavors found throughout Texas. In this blog post, we will explore upcoming food festivals, highlighting the different types of cuisine, local vendors, and unique dishes to try at each event. We'll also introduce Texas Shuttle's convenient transportation service, ensuring you can enjoy these food festivals without worrying about travel arrangements.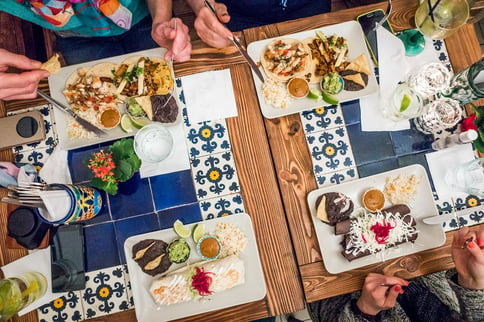 Taste of Texas: A Culinary Journey
Location: Austin Food Festival, Austin
Dates: June 15th - June 17th
Tickets: $25 for general admission, includes food tastings and entertainment
Featured Cuisine: Tex-Mex, Barbecue, Southern Comfort Food
Local Vendors: Famous Tex-Mex restaurants, BBQ joints, and soul food chefs
Must-Try Dishes: Brisket tacos, smoked ribs, chicken-fried steak
Texas Shuttle's reliable and comfortable shuttle service will pick you up from your preferred location and transport you to the Austin Food Festival, allowing you to savor the diverse flavors of Texas without the hassle of driving and parking.
Flavors of the Gulf: Seafood Extravaganza
Location: Galveston Seafood Festival, Galveston
Dates: July 20th - July 22nd
Tickets: $15 for adults, $5 for children (includes admission to the festival)
Featured Cuisine: Gulf Coast Seafood
Local Vendors: Fresh seafood markets, seafood restaurants, oyster bars
Must-Try Dishes: Gulf shrimp cocktail, grilled red snapper, crawfish étouffée
With Texas Shuttle's door-to-door service, you can relax and enjoy the scenic drive to Galveston, knowing that your transportation needs are taken care of. After indulging in the finest Gulf Coast seafood, the shuttle will be ready to bring you back to your desired location.
Spice It Up: Texas Chili Festival
Location: San Antonio Chili Fest, San Antonio
Dates: August 10th - August 12th
Tickets: $20 for general admission, includes chili tastings and live music
Featured Cuisine: Chili and Southwestern flavors
Local Vendors: Award-winning chili cooks, Tex-Mex restaurants, hot sauce vendors
Must-Try Dishes: Traditional Texas chili, chili cheese fries, jalapeño poppers
Texas Shuttle's flexible scheduling ensures you arrive at the San Antonio Chili Fest on time, ready to indulge in the spicy and savory world of Texas chili. After satisfying your taste buds, the shuttle will be there to provide a comfortable journey back to your preferred location.
Sweet Delights: Texas Dessert Festival
Location: Dallas Dessert Festival, Dallas
Dates: September 15th - September 17th
Tickets: $30 for general admission, includes dessert tastings and entertainment
Featured Cuisine: Delectable desserts and sweets
Local Vendors: Artisan bakeries, gourmet chocolatiers, ice cream parlors
Must-Try Dishes: Pecan pie, Texas sheet cake, fried ice cream
Texas Shuttle's convenient and affordable transportation service ensures you can enjoy the indulgence of the Dallas Dessert Festival to the fullest. Sit back and relax during the ride, knowing that a comfortable and safe journey awaits you.
Texas food festivals offer a delightful exploration of the state's diverse cuisine. From Tex-Mex and barbecue to Gulf Coast seafood and sweet treats, these festivals are a celebration of culinary delights. With Texas Shuttle's reliable, convenient, and affordable transportation service, you can attend these festivals worry-free. Let Texas Shuttle take care of your travel needs, ensuring a seamless journey to experience the mouth-watering flavors and vibrant atmosphere of Texas' food festivals. Don't miss out on these upcoming food festivals! Book your Texas Shuttle ride today and embark on a culinary adventure you won't soon forget.