Snorkeling in Texas can be a fun and unique experience, as the state has a diverse range of coastal habitats, including bays, estuaries, and the Gulf of Mexico. It's important to note that while snorkeling, you should always use a flotation device such as a buoy or inflatable raft and never swim alone. Once you have your equipment, you can find a good snorkeling spot by looking for a place with clear water and a variety of marine life. Some popular snorkeling destinations include tropical coral reefs, kelp forests, and shipwrecks. Some popular snorkeling spots in Texas include: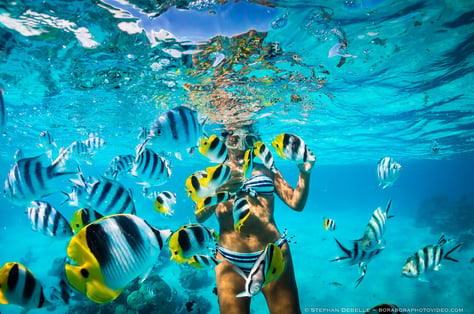 Padre Island National Seashore:
Located on the Gulf Coast, this park offers over 130,000 acres of protected beaches and dunes, as well as bay and lagoon habitats that are home to various marine life.
Flower Garden Banks National Marine Sanctuary:
This area, located about 100 miles off the coast of Texas, is known for its clear waters and vibrant coral reefs. It's a popular spot for snorkeling and scuba diving.
Galveston Island State Park:
This park offers miles of beaches and bay habitats and is home to a variety of fish and other marine animals.
Matagorda Bay Nature Park:
Located on the Gulf Coast, this park offers a variety of habitats, including salt marshes, beaches, and bay waters that are home to a diverse array of marine life.
Things to keep in mind:
Snorkeling is a popular water activity that allows you to explore the underwater world and observe marine life. It involves swimming on the surface of the water while wearing a diving mask, snorkel, and fins.To get started with snorkeling, you will need a few essential pieces of equipment:
Diving mask:

This covers your eyes and nose, allowing you to see clearly underwater.

Snorkel:

This is a tube that will enable you to breathe while swimming on the surface.

Fins:

These are worn on your feet and help you swim more efficiently.

Wetsuit or Rash Guard:

This will protect you from the sun and jellyfish stings.
Best Time To Snorkel
However, the best time to snorkel in Texas is during the summer, when the water is warmer, and visibility is better. Make sure to check with the park or area you plan to visit for any specific rules or regulations regarding snorkeling. And always check the weather conditions before you go and be aware of any warnings or alerts. As you snorkel, you must be aware of your surroundings and respect marine life and the environment. Avoid touching or disturbing the coral or other sea life, and always follow local laws and regulations. When you're finished snorkeling, be sure to properly clean and maintain your equipment to ensure it lasts for many more adventures.
Texas Shuttle will help you plan your ride to these amazing spots for snorkeling in Texas. You can book our Dallas to Houston shuttle service. We will pick you up and drop you off at your exact locations. Almost all rides are non-stop in nice cars, SUVs, or shuttles. We are available 24/7. You can also change the time or date with us without being charged. There's less hassle, and you save more money with us. The Texas Shuttle is safer, affordable, flexible, and more convenient than any other ride. Book a ride with us this season to experience that warm and stress-free holiday vibe. It even reduces the unwanted cost incurred on the fare of taxis and buses to reach home. We provide professional chauffeurs with uniform and clean vehicles. Our mission is to create lifetime customer loyalty by exceeding our customer's expectations in terms of service.