Scuba Diving is one of the most adventurous sports we have on our bucket list. The experience of scuba diving is different everywhere and is worthwhile every time. The underwater world can truly surprise us. Once you start doing Scuba Diving, there's no going back. There are so many places where one must go scuba diving. Once you dive, you will realize that it's the most peaceful place in the world. You can explore the underworld without any restrictions. You can see different beautiful water species and their surroundings. It's mesmerizing to watch a whole new world unravel in front of your eyes. Here are a few spots in Austin where you can go for scuba diving: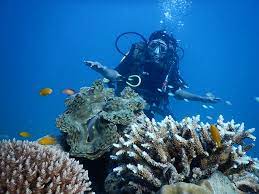 1. Spring Lake
To dive in here, you just have to get a science diving certification. This is easy to get as you will find many local diving shops which will provide you with complete training. This place has around 8 endangered species and 200 artesian springs, with many biological and archaeological research sites. You can find turtles in abundance here. It has a temperature of 72 degrees throughout the year. It has a maximum depth of 25 feet in the lake.
2.Reveille Peak Ranch
Reveille Peak Ranch is said to be one of the best spots for scuba diving in Austin. This place has a visibility of 20-30 feet; you can see the graphite bottom and the granite walls around it. You'll see the graphite sparkling with dive lights when you dive in. You can see hydrilla plants for the first 10 -15 feet of water. Amidst the shallowness of the Hydrilla plants, new varieties of fishes can be spotted. Going further, you'll find granite, marble, sandstones, shear walls, and limestones embracing graphite.
3. Canyon Lake
Canyon Lake features plenty of diving sites, including North Park and Comal Park. This place has a depth of 43 feet and a shoreline of 80 miles. Here you can encounter overgangs, fish shelters, boulders, ledges, old walls, and many sunken objects like cars, motorcycles, and boats. The lake has a depth of more than 120 feet. It has an average visibility of 5-10 feet. You should try this place out, as it will never disappoint you.

Texas Shuttle will help you plan your ride to these fun scuba diving spots in Austin. You can book our Dallas to Austin shuttle service. We will pick you up and drop you off at your exact locations. Almost all rides are non-stop in nice cars, SUVs, or shuttles. We are available 24/7. You can also change the time or date with us without being charged. There's less hassle, and you save more money with us. The Texas Shuttle is safer, affordable, flexible, and more convenient than any other ride. Book a ride with us this season to experience that warm and stress-free holiday vibe. It even reduces the unwanted cost incurred on the fare of taxis and buses to reach home. We provide professional chauffeurs with uniform and clean vehicles. Our mission is to create lifetime customer loyalty by exceeding our customer's expectations in terms of service.