River rafting in Texas can be a fun and exciting way to experience the state's natural beauty. River rafting is an outdoor activity that involves floating down a river while navigating through rapids in a raft. It's a popular activity that can be enjoyed by people of all ages and skill levels.To get started with river rafting, you will need to find a reputable outfitter that can provide you with the necessary equipment, including a raft, paddles, life jackets, and safety gear. Before you begin, the outfitter will provide you with instructions and safety tips, including how to navigate through rapids and what to do in case of an emergency. Some popular rivers for rafting in Texas include: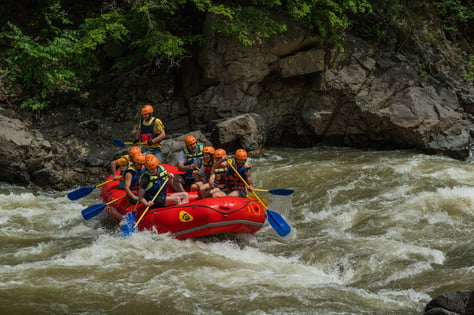 This river, located in central Texas, is known for its clear, cool waters and beautiful scenery. It offers a variety of rafting trips, from mild floats to more challenging rapids.
Located in New Braunfels, this river is considered to be the shortest and one of the most beautiful rivers in the world. It offers a variety of rafting trips, from gentle floats to more challenging rapids.
This river, located in south-central Texas, is known for its crystal-clear, spring-fed waters. It offers a variety of rafting trips, from mild floats to more challenging rapids.
This river is located in the Texas Hill Country; it is a popular spot for river rafting and tubing.
This river, which forms the border between Texas and Mexico, offers a variety of rafting trips, from mild floats to more challenging rapids.
Instructions for River Rafting
When you're on the river, following the guide's instructions and staying in your designated position in the raft is essential. You will also need to be aware of your surroundings and be ready to react quickly in case of an emergency.
Different rivers have different levels of difficulty, and it's essential to choose a trip that is appropriate for your skill level.
Class I and II rapids are considered to be easy and suitable for beginners, while Class III and IV rapids are more challenging and require more experience.
It's also important to note that the availability of river rafting is seasonal, and it depends on the water levels and weather conditions. Always check with the park or area you plan to visit for any specific rules or regulations regarding rafting and safety measures.
Best time for River Rafting
Keep in mind that the best time for rafting in Texas depends on the particular river you plan to raft on, as well as the level of difficulty of the trip. Some rivers may be too low or too high to raft on during certain times of the year, so it is best to check with a local outfitter or park service for current conditions before planning your trip. Overall, river rafting can be a thrilling and exciting outdoor activity that allows you to enjoy the beauty of nature while also challenging yourself physically and mentally.
Texas Shuttle will help you plan your ride to these fun spots for rafting in Texas. You can book our Dallas to Houston shuttle service. We will pick you up and drop you off at your exact locations. Almost all rides are non-stop in nice cars, SUVs, or shuttles. We are available 24/7. You can also change the time or date with us without being charged. There's less hassle, and you save more money with us. The Texas Shuttle is safer, affordable, flexible, and more convenient than any other ride. Book a ride with us this season to experience that warm and stress-free holiday vibe. It even reduces the unwanted cost incurred on the fare of taxis and buses to reach home. We provide professional chauffeurs with uniform and clean vehicles. Our mission is to create lifetime customer loyalty by exceeding our customer's expectations in terms of service.