All the history lovers out there, we all have fancied going to a historic mansion. We all hope to get a glimpse of the events that happened in that Mansion. Moody mansion is one such place where your soul can enjoy it—also known as Willis Moody Mansion, is located in Galveston. The splendid rooms with beautiful architecture and paintings, the carved cutleries, the vast wall-sized paintings, everything will be a treat to your eyes. There are also displays of enormous, majestic vehicles that speak of royalty.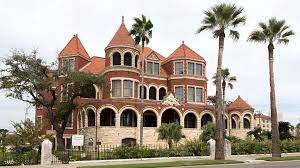 History
In 1893, the Galveston socialite Narcissa William commissioned the Mansion. After her husband, Richard S. Willis, died, Narcissa built a more lavish home on-site using the assets that were supposed to be divided among her kids. Due to this act, Narcissa was alienated from her family till death. She lived alone with a housekeeper who was paid three times higher than the wages of that time.


Moody Family
The Moody family occupied the Moody Mansion from 1900 till 1986. After the Great Galveston Storm in September 1900, Moody won the house for $20,000, which was like a fraction of the Mansion's original worth. His wife and his four children moved in immediately and celebrated their first Christmas in that Mansion. The Mansion turned into a historical museum in 1986 commemorating the Moody family. Throughout history, the Mansion has been getting affected by hurricanes. In September 2008, Hurricane Ike led to the flooding of the basement. It was finally restored in July 2014 as the Galveston's Children's museum.


Mansion's Layout
There are many interesting rooms made for something and used for other purposes. Some of the rooms are as follows:
Libbie's room - It was made as a sick room, which was very common in the 1900s.This room's fireplace and airways are separate from the other rooms. When Libbie Moody took this room as hers, she painted the wood to a lighter color because she found the dark color too oppressive.

Nursery room - This room was never used as it was intended to be. The fireplace of this room has two recesses on each side for warming milk bottles.

Sewing Room - William Lewis Moody Jr used this room while his family used to be away. It was also used as a guest room.


Plan your visit to Moody Mansion in Houston with Texas shuttle service. You can book Dallas to Houston shuttle service. We will pick you up and drop you off at your exact locations. Almost all rides are non-stop in nice cars, SUVs, or shuttles. We are available 24/7. You can also change the time or date with us without being charged. There's less hassle, and you can save more money with us. The Texas Shuttle is safer, affordable, flexible, and more convenient than any other ride. Book a ride with us this season to experience that warm and stress-free holiday vibe.