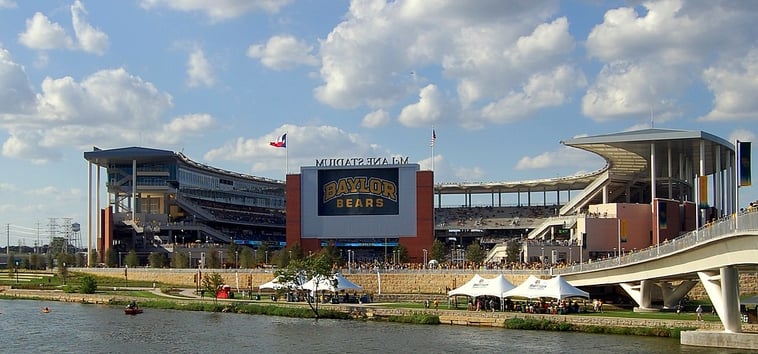 Are you a sports enthusiast? Then this is the perfect spot to spend your weekend. McLane Stadium is mainly an American football stadium and a multi-functional facility in Waco, Texas, where events take place throughout the year. It is owned and operated by Baylor university.

Sports play a vital role in keeping our physical and mental health in check. We are well aware that an individual needs to indulge oneself in physical activities. And what would be better than going and playing sports? It is proven that sports improve coordination and bring discipline. With all this, it refreshes one mind to improve overall mood and helps develop a better thinking capacity. Both indoor and outdoor sports are essential for our overall growth. Indoor sports can play a significant role in developing mental health, as most indoor games require quick decision-making and intellectual thinking. Whereas outdoor games are majorly for building swift physical movements with rapid decision-making. We can see that the more disciplined the players are, the more successful their careers become.


And many stadiums are very famous for their tournaments in the past; one of the stadiums is McLane Stadium of Waco, Texas.


This is a stadium located on the bank of the Brazos River. This is one of the few stadiums which are located on the banks of the river where the audience can enjoy the ride to the stadium by boat. Where else will you be able to find these subtle combinations of scenic tours and entertaining events? This can be an opportunity to grab from those boring nights spent without any exciting plans and fun. This place has witnessed many football matches and many great players from all across the country.

Texas shuttle service is providing its services to help successfully execute your holiday plans. We provide door-to-door pick-up and drop services to ensure the safety of our customers and to avoid the extra fare of buses or taxis to reach home. We provide flexible pickup and drop time as on your schedule as we operate 24\7. Book your ride to sit back and enjoy your journey with the Texas shuttle. We have SUVs, a shuttle service, and even the facility to enjoy the luxury rides of the pre-booked limo. We don't charge any cancellation fee and there is also no charge for changes in the date and time of the trip. Take the Texas shuttle service to travel from DFW to Waco. We ensure to provide services at affordable prices and help you experience the best possible opportunities. For more information, Call (817) 403-6196.