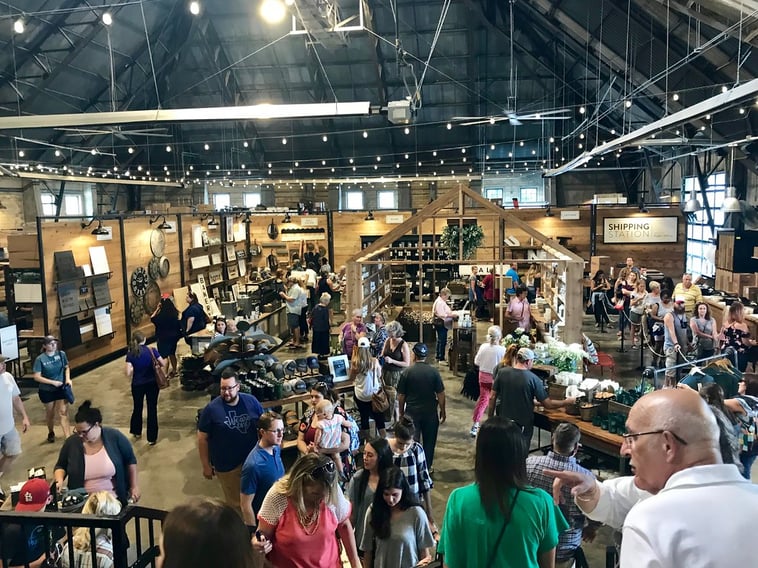 There's always an air of excitement with the mention of shopping. There's hardly anyone who doesn't like shopping. Even if you want to buy something or do window shopping, we always find excuses to go to these market areas. Exploring the shops and markets is an outing in itself.
1. Spice Village
Spice village in Waco is a shopping experience of its own. This place has been there for over twenty years, having something for everyone. Located in the downtown area of Waco near the Magnolia market. It is a 30,000 square feet area with over sixty shops. The McLendon Hardware Co. is a historic building built in 1908. It holds the signature long-leaf pine beams separating all shops. The ancient wood there itself has a fragrance of nostalgia and home to it. You can find various products, including apparel, home décor, accessories, gifts, and many more, with a wide budget range.
2. Magnolia Market
This place is a 12,000 square feet retail store. Commonly known as The Magnolia Market at the Silos, it holds up two city blocks in downtown Waco. It was built in 1950 as a part of the Brazos Valley Cotton Oil Company. It closed in 1958 and then opened to the public in October 2015. This place is now owned by Chip and Joanna Gaines. You can recognize them from HGTV's Fixer Upper Tv series. The store gives you a range of items in a unique Joanna style. The accessibility to this complex is free. You can plan to have picnics or play games on the lawn.
3. Waco Downtown Farmers Market
If you are someone who enjoys freshly picked groceries and local food, then this is the place for you. Since 2011, this place has opened a market every weekend for both locals and tourists. There are many places where you can get your lunch or brunch and enjoy trolling around. You can get freshly picked fruits and vegetables and other things like plants, fresh drinks, handicrafts, gourmet treats, artisanal cheeses, and alcoholic beverages. With live music playing around, this weekend's trip here feels like a fest.
Texas Shuttle will help you plan your rides to these fun and exciting markets in Waco, Texas. You can book DFW to Waco shuttle service. We will pick you up and drop you off at your exact locations. Almost all rides are non-stop in nice cars, SUVs, or shuttles. We are available 24/7. You can also change the time or date with us without being charged. There's less hassle, and you save more money with us. The Texas Shuttle is safer, affordable, flexible, and more convenient than any other ride. Book a ride with us this weekend to experience a fun and productive weekend.