Austin has many significant libraries and museums in the city. One such essential Library is the Lyndon Baines Johnson Library and Museum. Libraries and Museums have played a huge role in preserving our rich culture and heritage. This place has more than 45 million pages of historical papers and documents from President LBJ's lengthy career. Libraries and Museums are the perfect hangout spots for people who like to explore history and venture through the past. If you are someone who loves to run through the past and discover hidden secrets, then you should definitely visit this place.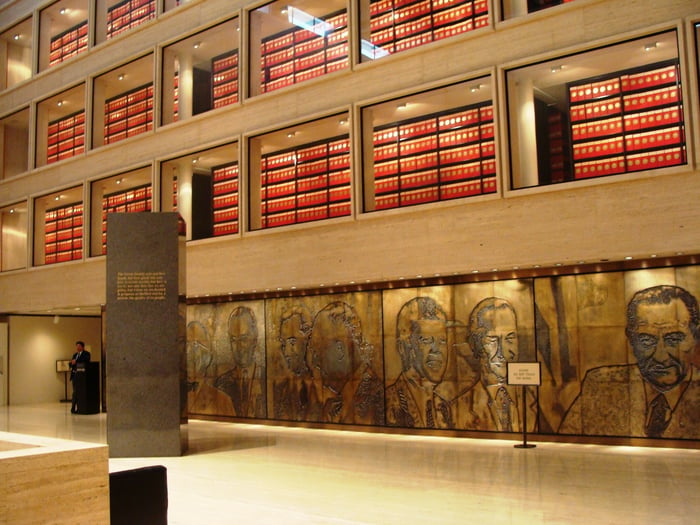 Lyndon Baines Johnson was the 36th US president and was usually referred to by his initials LBJ. He served the United States from 1963 to 1969. He also served as the Vice President under President John F Kennedy. Lyndon was born in 1908 in a small family farmhouse on the Pedernales River near Stonewall, which had no electricity or running water. Lyndon's father and maternal grandfather were politicians in Texas. Lyndon's mother was college educated, which was not common in the early 1900s. She instilled the values of culture and education in all her five children. She constantly reminded Johnson until her last breath that she expected great things from him.
In 1934, Johnson met Claudia Alta 'Lady Bird' Taylor through a common friend. On their first date itself, LBJ asked her to marry him, but she didn't give an immediate answer. During their short courtship, the couple exchanged 90 letters filled with expressions of love. On November 17, 1934, they finally got married. As LBJ worked up in politics, so was Lady Bird Johnson. She took up responsibilities as a campaigner, social secretary, hostess, environmentalist, business owner, counselor, and many more.
The library museum has exhibits relating to the President's time in office. It also exhibits the critical issues during that time, including the civil rights movement. The place also has an impressive replica of the Oval Office as it could have been during LBJ's presidency. The library museum is open every day of the week except for major holidays.
Texas Shuttle will help you plan your rides to the precious Lyndon Baines Johnson Library and Museum. You can book our Dallas to Austin shuttle service. We will pick you up and drop you off at your exact locations. Almost all rides are non-stop in nice cars, SUVs, or shuttles. We are available 24/7. You can also change the time or date with us without being charged. There's less hassle, and you save more money with us. The Texas Shuttle is safer, affordable, flexible, and more convenient than any other ride. Book a ride with us this season to experience that warm and stress-free holiday vibe. It even reduces the unwanted cost incurred on the fare of taxis and buses to reach home. We provide professional chauffeurs with uniform and clean vehicles. Our mission is to create lifetime customer loyalty by exceeding our customer's expectations in terms of service.