Most of us spend our time in the office in front of a computer. We usually daydream about going on vacations to exotic places. But only some of those get fulfilled due to restrictions of time. More often than not, we need to realize that escaping this routine is way easier than we think. Lakes are a perfect getaway for any busy individual. Spending your time sitting beside a lake can be so calm and peaceful. The good thing is that we can find lakes everywhere. You don't have to make elaborate plans and spend a lot to have this vacation. You can also enjoy fresh fish that you have caught yourself. Here are some lakes in Austin that you can visit to break from the Urban Lifestyle.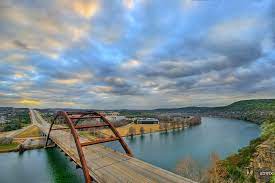 Lake Austin is an excellent choice for people who enjoy boating and fishing. This place has the iconic bridge, which is also a highway in Texas. It's called the 360-loop bridge. This lake is located near the city of Austin and is a great hang-out place for family and friends. Recently the bridge over this lake has been gaining popularity day by day.
Located just in the middle of the busy city life, it's an excellent spot for you to bike, hike, or take a stroll by the lake. It's a perfect place for you to enjoy the sunset and the sunrise. You can wake up early at dawn and bring hot tea or coffee to enjoy this beautiful sunrise first thing in the morning. The place has a scenic trail giving you that ultimate Zen feeling.
Lake Travis is also a reservoir at lake Colorado. Lake Travis was built to make a dam, but later on, it changed as it shifted to major flood-prone areas. Whereas the motive of building a dam was to prevent the flood. You can do a lot of activities here like boating, fishing, camping and many more. This lake is said to be one of the purest and cleanest lakes in the city of Texas.


Texas Shuttle will help you plan your ride to these calm and peaceful lakes in Austin. You can book our Dallas to Austin shuttle service. We will pick you up and drop you off at your exact locations. Almost all rides are non-stop in nice cars, SUVs, or shuttles. We are available 24/7. You can also change the time or date with us without being charged. There's less hassle, and you save more money with us. The Texas Shuttle is safer, affordable, flexible, and more convenient than any other ride. Book a ride with us this season to experience that warm and stress-free holiday vibe. It even reduces the unwanted cost incurred on the fare of taxis and buses to reach home. We provide professional chauffeurs with uniform and clean vehicles. Our mission is to create lifetime customer loyalty by exceeding our customer's expectations in terms of service.