The mood is festive around us. The holiday vibes are still going strong. Everyone is in high spirits for the coming days. We all are hyped up to spend our holidays with our families doing lots of fun activities. So if you are looking for things to do this coming weekend, then don't worry. We have got you covered! Here's a list of places you can go and spend your weekend.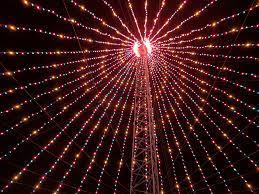 1. Heard Natural Science Museum & Wildlife Sanctuary
Holidays at Heard is going to be a fun, family-friendly fundraising event. They have their events on the 9th and 10 December from 6.30 - 9.30 P.M. They have a lovely light and decorated half-mile Heard nature trail. It's going to be a beautiful nighttime hike for you and your family and friends.
2. Candlelight At Old City Park
This December, join the 50th candlelight at the old city park, the longest-running event in Texas. The park will have over 13 acres of decorated buildings, food trucks, craft vendors, strolling carolers, and many more. Make sure to explore the historic buildings in the village, which will be decked up in period decoration. The walkway is going to be candle-lit in the evening with live music.
3. Arlington Holiday Lights Parade
The 2022 Arlington Holiday lights parade will happen on December 10, beginning at 6.00 p.m. The parade route traditionally started at the corner of Main and Center Streets, but the courses have changed within the past seven years. There's going to be pageantry followed by the Christmas tree's lighting. You can also stop by the Hawkes Downtown Library. You can find Reindeer crafts and get pictures with Santa.
4. Scrooge The Musical
What better way to spend your weekend than watching the classic Scrooge the Musical? It's a fast-paced full-length musical by Leslie Bricusse, an award-winning songwriter. The musical play is a classic retelling of 'A Christmas Carol.' It's happening in the Courtyard Theatre from December 7 -11.
Texas Shuttle will help you plan your rides to all these beautiful places. We will pick you up and drop you off at your exact locations. Almost all rides are non-stop in nice cars, SUVs, or shuttles. We are available 24/7. You can also change the time or date with us without being charged. There's less hassle, and you save more money with us. The Texas Shuttle is safer, affordable, flexible, and more convenient than any other ride. Book a ride with us this season to experience that warm and stress-free holiday vibe. It even reduces the unwanted cost incurred on the fare of taxis and buses to reach home. We provide professional chauffeurs with uniform and clean vehicles. Their mission is to create lifetime customer loyalty by exceeding their expectations in terms of service.