Texas, the land of wide-open horizons, offers unparalleled opportunities to witness majestic sunsets and experience the wonder of starry skies. With Texas Shuttle by your side, get ready to embark on an extraordinary journey to explore the captivating wonders of the Lone Star State. Let's delve into the enchanting world of sunsets and starry nights that Texas has to offer.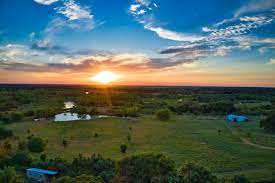 Chasing Mesmerizing Sunsets
As twilight descends, the Texas sky paints a breathtaking picture with its vivid hues, creating a mesmerizing spectacle. Let's explore some of the best spots to embrace the twilight and witness spectacular sunsets.
Palo Duro Canyon State Park: Nature's Paintbrush
Nested in the center of the Texas Panhandle, Palo Duro Canyon State Park is renowned for its stunning vistas and dramatic sunsets. Capture the magical moment as the sun dips below the horizon, casting a warm glow on the canyon walls.
Mount Bonnell: Skyline Spectacle
For an iconic Austin experience, head to Mount Bonnell and witness the sun setting behind the city skyline. From this vantage point, the panoramic views and vibrant colors create a picture-perfect sunset scene.
Texas Hill Country: Rolling Landscapes
The picturesque landscapes of the Texas Hill Country provide a serene backdrop for watching the sun bid farewell. Whether you visit Enchanted Rock or the charming town of Fredericksburg, the beauty of the rolling hills and the golden hour hues will leave you in awe.
Stargazing Adventures
When the night sky emerges, Texas unveils its celestial wonders. Let's embark on a stargazing journey to discover the mesmerizing beauty above.
McDonald Observatory: Gateway to the Stars
Situated in the Davis Mountains, the McDonald Observatory offers exceptional stargazing opportunities. Peer through powerful telescopes, attend informative star parties and marvel at the celestial wonders that adorn the Texas sky.
Big Bend National Park: Dark Sky Oasis
Recognized as an International Dark Sky Park, Big Bend National Park offers a haven for astronomy enthusiasts, where the night sky's brilliance unfolds in all its splendor. Away from city lights, the park's vast expanse becomes a canvas for countless stars, offering a genuinely immersive stargazing experience.
Enchanted Rock State Natural Area: Nighttime Wonder
Experience the enchantment of stargazing at Enchanted Rock State Natural Area. The massive granite dome provides a unique setting to observe constellations, planets, and the Milky Way in all their glory.
Texas's sunsets and starry skies hold a magical allure that draws adventurers and dreamers alike. With Texas Shuttle as your trusted travel companion, you can chase these natural wonders and create unforgettable memories. From captivating sunsets to awe-inspiring stargazing, Texas offers abundant beauty to explore. Let Texas Shuttle be your gateway to immersive experiences and enchanting horizons in the Lone Star State.