The state's official history museum, the Bullock Texas State History Museum, has three floors of exhibition galleries, an IMAX® Theatre, the Texas Spirit Theater, the Story of Texas Café, and the Bullock Museum Store.
The Bullock Texas State History Museum (also known as the Bob Bullock Texas State History Museum or the Bullock Museum) is a history museum located in Austin, Texas. The museum, which is located at 1800 North Congress Avenue in Austin, Texas, just a few blocks north of the Texas State Capitol, is dedicated to telling the "Story of Texas" to as wide an audience as possible through meaningful educational experiences.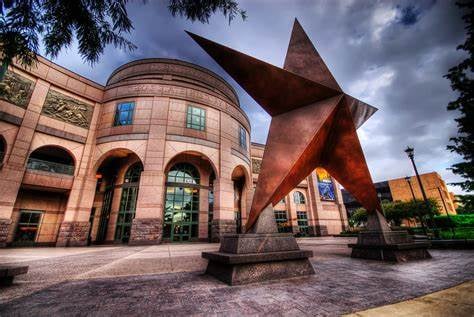 History
We believe that exploring our history fosters personal and collective identity in a diverse world teaches essential skills, serves as the foundation for strong, vibrant communities, and is a catalyst for economic growth. History inspires leaders and, when saved, preserved, and shared, becomes the legacy from which future generations can expand their opportunities for growth in a civil society.
Bob Bullock, Texas' 38th Lieutenant Governor, championed the preservation and exhibition of Texas history and worked to establish the Texas State History Museum. Bullock was the honored guest at the museum's groundbreaking ceremony in April 1999 but died the following June before the museum was finished.


Exhibitions
Becoming Texas, the Bullock Museum's newly renovated long-term first-floor Texas History Gallery debuted in 2018. The exhibition also looks at the early American Indian civilizations that cultivated the area before Europeans arrived, European colonization ambitions, and global politics that influenced the growth of early Texas.
The third floor focuses on Texas land, culture, and technology, with sections on Texas ranching, oil, science, space exploration, civil rights, and Texas sports and music. The Austin City Limits Theater at the museum features musical performance clips from the long-running television show based in Austin.


Events
The Bullock Museum has a full calendar of programs and events throughout the year. H-E-B Free First Sunday, World Refugee Day, and American Indian Heritage Day are all large-scale community events. During spring and summer vacations, the museum also hosts shows and social gatherings, lectures, drop-in preschool programs, film screenings, and seasonal family activities.


Texas Shuttle will help you plan your rides to these fun and exciting visits to The Bullock Texas State History Museum in Austin. We will pick and drop you off at your exact locations. Almost all rides are non-stop in nice cars, SUVs, or shuttles. We are available 24/7. You can also change the time or date with us without being charged. There's less hassle, and you save more money with us. The Texas Shuttle is safer, affordable, flexible, and more convenient than any other ride. Book a ride with us this weekend to experience a fun and productive weekend.