Austin is the state capital of Texas. There are many interesting things to do in and around Austin. One such thing is swimming in the Barton Springs Pool. Swimming is one of the most popular activities in the world. It's not only beneficial to our physical health but also quite therapeutic to our minds. The moment we put our heads inside water, it's just us and our thoughts in the water world. One hour of swimming every day will not only work on your whole body but will work your insides too. It makes your lungs and heart strong.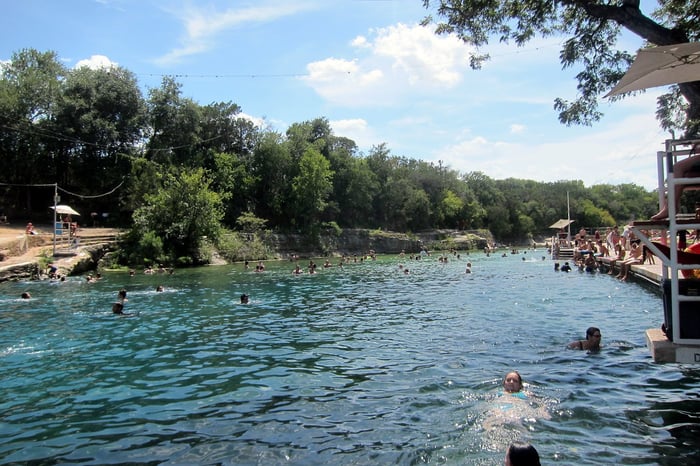 Barton Springs Pool is a fun outdoor swimming pool. It is filled entirely with water from nearby natural springs. Located on the grounds of Zilker Park, the pool also exists within the channel of Barton Creek. The pool is a popular spot for year-round swimming as its temperature stays between 68-74 degrees Fahrenheit. The locals and tourists seem to be fond of this place and enjoy the grassy tree-lined perimeter and water reaching up to 18 feet deep.
History
Spanish explorers were the first to found the Springs in the 17th century. In around 1730, they erected temporary missions at the site. Before the building of the pool, the springs were considered sacred and were then used for purification rituals by the Tonkawa Native American tribe who inhabited that place.
In 1837, William Barton settled the area and named three separate springs after his three daughters Parthenia, Eliza and Zenobia. William and the other property owners realized its tourist values and promoted it vigorously, leading to its swimming pool's lasting popularity. In 1918, the last owner of the property, Andrew Jackson Zilker, transferred the property rights to the city of Austin. In 1920, the city undertook a construction project to build a bigger swimming pool. Dan Driscoll designed the bathhouse in 1947.
Barton Springs Pool Information
The pool is open to the public from 5:00 pm to 10:00 pm. It's free admission to the pool from November through mid-March. But they do take a small fee from mid-march to October for entry after 8:00 pm. The pool has lifeguards available all the time except before 8:00am in the morning. Beautiful trees with plenty of shade surround the pool.
Texas Shuttle will help you plan your rides to this beautiful Barton Springs Pools. You can book our Dallas to Austin shuttle service. We will pick you up and drop you off at your exact locations. Almost all rides are non-stop in nice cars, SUVs, or shuttles. We are available 24/7. You can also change the time or date with us without being charged. There's less hassle, and you save more money with us. The Texas Shuttle is safer, affordable, flexible, and more convenient than any other ride. Book a ride with us this season to experience that warm and stress-free holiday vibe. It even reduces the unwanted cost incurred on the fare of taxis and buses to reach home. We provide professional chauffeurs with uniform and clean vehicles. Our mission is to create lifetime customer loyalty by exceeding our customer's expectations in terms of service.