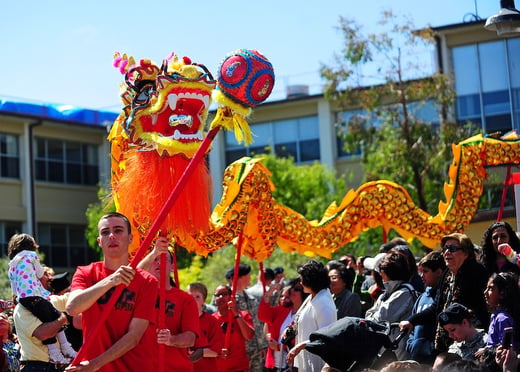 The Austin Marathon is an annual race held in Austin, Texas, typically in January. The event includes a full marathon, a half marathon, and a 5K race. The marathon course takes runners through the city's downtown area and past landmarks such as the Texas State Capitol, the University of Texas, and Lady Bird Lake. The event typically attracts thousands of participants worldwide and offers a unique experience for runners, with live music and cheering crowds along the route.


The Texas Lunar Festival is an annual cultural festival held in Austin, Texas, celebrating the Lunar New Year, typically in January or February. The event features a variety of cultural performances, including traditional music and dance, martial arts demonstrations, and lion dances. Vendors also sell traditional foods, arts and crafts, and other items. The festival is an excellent opportunity to learn about and experience the rich cultural heritage of the Asian community in Austin and to celebrate the Lunar New Year.
It is a free event with many fun-filled activities for people of all ages; it is a great way to spend the day with friends and family and learn about different cultures.


"Pretty Woman: The Musical" is a romantic and feel-good show that has received positive reviews from audiences and critics. It is a fun and entertaining night out at the theater, with a talented cast, catchy songs, and a good dose of humor. Enjoy the show on Jan 17-22, 2023, at Bass concert hall.
Bass Concert Hall is a performing arts venue on the University of Texas at Austin campus. With over 2,900 seats, it is one of the largest theaters in Austin, Texas, and a popular venue for live entertainment.


Live Stand-up Comedy
Live stand-up comedy is a form of entertainment where a comedian performs in front of a live audience, telling jokes and stories, and making observations about various topics. Many comedians also tour and perform in different cities, allowing audiences across the country to see them live.
Many venues in Austin, Texas, that host live stand-up comedy, such as The Velveeta Room, Cap City Comedy Club, and Esther's Follies. These venues often feature local comedians and touring comedians, and they usually have a calendar of upcoming events on their website.
Texas Shuttle is a transportation service that provides various transportation options, such as airport shuttles, charter buses, and executive car services in Texas. They offer transportation to and from multiple locations in the state, including Austin, San Antonio, and Houston. They have a variety of vehicles to choose from, including shuttle buses, vans, and luxury cars. Book your ride today, and for more information, contact (817) 403-6196.