Universal Theme Park
Are you looking for a fun and exciting day out with the family? Then Universal Theme Park is the perfect place for you! From its amazing rides to its unique attractions and shows, there is something for everyone at Universal Theme Park. Not to mention, with its reasonable prices, it is an experience the whole family can enjoy. And with the help of Texas Shuttle Company, you can make sure you reach your destination comfortably with some extra savings. Let us dive into all the fantastic things Universal Theme Park offers.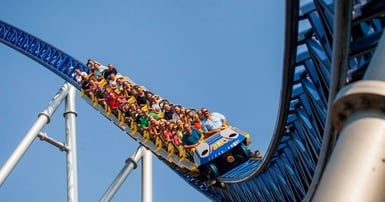 Kids Enjoy A Lot At Universal Theme Park
When you walk through the doors of Universal Theme Park, you're sure to find something that appeals to everyone in your family. There are rides and shows for adults and children, immersive attractions that you cannot experience anywhere else, and special events throughout the year. Plus, there are always new Touch and Learn activities for the whole family to enjoy. Universal Theme Park has everything if you want a quick bite or a high-end dining experience.
And if that's not enough, consider staying inside the theme park with accommodations with spectacular views of the park or right inside the theme park itself! With so much to see and do at Universal Theme Park – there's truly something for everyone. So come on over and enjoy some great family fun today!
Make Family Day Out Special With Reasonable Prices
It's hard to believe that it's already summertime, which means one thing – a family day at the park! But don't worry; you don't have to break the bank to make it a fun day.
For starters, explore our fun games and rides for all ages. We've got something for everyone, from family-friendly amusements like VelociCoaster, the most thrilling attraction, and the Ko'okiri Body Plunge inside the volcano. And if you're looking for something special, try one of our custom-themed attractions like Harry Potter and The Forbidden Journey or Jurassic Park: The Ride – both of which are sure to give you memories that'll last a lifetime.
If you'd instead relax than thrill, check out our selection of nearby lodging facilities. From quaint bed-and-breakfast inns to posh hotels with breathtaking views of the park, we've got what you're looking for. Plus, take advantage of our convenient parking options and easy access to local shops and restaurants for lunch or dinner before returning to the park.
Of course, nothing beats experiencing Universal themed park, so grab tickets in advance! But if you can't wait that long – no problem! We offer discounted multi-day passes and meal plans to let you enjoy the park multiple times without spending a fortune. And when it comes time for showtime, select from a variety of family-friendly shows like Despicable Me, Minion Mayhem, or Toy Story Midway Mania! There's no excuse not to have a great day out with the whole family at Universal Orlando Resort!
Creative Ways To Have Fun On A Budget
Whether you're looking for a day out with the kids or an evening with your friends, Universal has something for everyone. It's always possible to have a good time, and there are plenty of fun and affordable options available for Universal Theme Park fans of all ages. Here are some of the most popular attractions and activities at Universal Theme Park and some creative ways to enjoy them at home.
Ticket prices vary depending on the time of year, but you can find discounted tickets for family and friends throughout the year. Special events and festivals throughout the year are perfect for celebrating a special occasion or having a lot of fun. Plus, free entertainment is always available at no cost to guests – whether it's family-friendly shows or exciting theme park rides.
Spruce up your home or backyard with creative ideas to have everyone having fun – without breaking the bank. From DIY fireworks displays to themed party games, there's sure to be something fun and exciting that you can do at home for little cost! And if you're looking for an extra treat after spending a day at Universal Theme Park, don't forget the unique food options available – from affordable pizzas to mouth-watering desserts.
Let Texas Shuttle Company Help You Reach Your Destination Easily And Comfortably With Coupons
Looking to visit an amusement park this summer but want to save money? Look no further than Texas Shuttle Company. Our affordable and safe travel will have you seeing your favorite amusement parks in style and comfort. We offer a one-stop pick-up & drop-off service, so you can quickly and conveniently reach your destination. Our extensive fleet of vehicles ensures you'll get your goal on time.
Our superior customer service is experienced drivers passionate about providing top-notch service. We understand that everyone's vacation is different, so we offer a variety of amenities to make your trip as comfortable as possible. You'll enjoy WiFi while on board, reclining leather seats, and more – all at an affordable price! Take advantage of our exclusive discounts! With Texas Shuttle Company, there's always a way to save money on your amusement park trip. Book now and enjoy peace of mind knowing you're in good hands