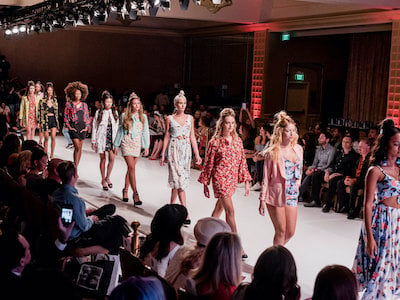 Austin Fashion Week is an annual event celebrating fashion, art, and music in Austin, Texas. It typically features runway shows, designer presentations, exhibitions, and events showcasing local and national talent. The event attracts fashion designers, industry professionals, models, photographers, and enthusiasts worldwide. Austin Fashion Week provides a platform for emerging designers to showcase their collections, network with industry professionals, and gain brand exposure. The event is a celebration of Austin's vibrant and creative fashion community and a must-attend for anyone interested in fashion and style.
Dallas Blooms is an annual spring festival held at the Arboretum and Botanical Garden in Dallas, Texas. It features over 500,000 blooming flowers, including tulips, daffodils, and azaleas. The festival offers a colorful and fragrant escape from the city, with a variety of horticultural displays, scenic gardens, and photo opportunities. Visitors can also enjoy live music, food, drinks, and educational activities for children and adults. Dallas Blooms is a popular event for families, photographers, garden lovers, and anyone seeking a taste of spring in the city's heart. It typically runs from late February to mid-April and is a way to celebrate the start of the new season in Texas.
Mardi Gras Galveston is an annual celebration of Mardi Gras held on Galveston Island, Texas. The festival features a variety of events, including parades, live music, food, and festivities. Visitors can enjoy colorful and elaborate floats, costumes, and beads as they celebrate Mardi Gras in Texas. The festival attracts visitors annually and is a popular destination for families, friends, and party-goers. Mardi Gras Galveston offers a unique opportunity to experience the excitement and energy of Mardi Gras in a coastal setting, with all the excitement of a traditional Mardi Gras celebration but with a Texas twist.
The San Antonio Show and Rodeo is an annual event in San Antonio, Texas. It is one of the most significant rodeo events in the country and features top cowboys competing in various rodeo events, including bull riding, steer wrestling, and barrel racing. The event also includes a carnival with rides, games, food, and live music. The San Antonio Show and Rodeo attracts visitors from all over the country and provides a unique opportunity to experience the excitement of rodeo and Western culture. It is an excellent opportunity for families, rodeo fans, and anyone interested in Western culture to experience the best of San Antonio.

Texas shuttle service is a type of transportation service that provides transportation between different cities or locations within Texas. We offer door-to-door, airport, or other types of transportation services at an affordable price. The service can be scheduled or on-demand and may provide various vehicles, such as vans, buses, or limousines. Our drivers are professionals and assure your safety 24/7. For more information, contact (817) 403-6196.