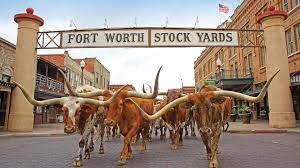 Joe T. Garcia's is a restaurant located in Fort Worth, Texas. It is known for its Tex-Mex cuisine and outdoor seating area. The restaurant was opened in 1935 by Joe T. Garcia and his wife, Mary, and has been family-owned and operated ever since. It has become a Fort Worth institution and a popular tourist destination. Joe T. Garcia's is famous for its signature dish, the fajitas, and its large patio with a festive atmosphere.
Magnolia Ave
Magnolia Avenue is a street located in Fort Worth, Texas. It is a historic street that runs through the city's heart and is home to several popular restaurants, bars, and shops. The road is lined with beautiful historic buildings, many of which have been converted into restaurants and boutiques. Magnolia Avenue has a vibrant nightlife scene with many bars and live music venues.
The Woodshed Smokehouse is a BBQ restaurant located in Fort Worth, Texas. It is owned and operated by Chef Tim Love, a well-known chef in the Fort Worth area. The restaurant is known for its wood-fired barbecue and unique blend of flavors, which feature traditional Texas-style barbecue with a modern twist. The Woodshed Smokehouse is considered a must-visit spot for BBQ lovers.
The Modern is a museum located in Fort Worth, Texas. It is a part of the Museum of Modern Art (MoMA) network and is dedicated to showcasing contemporary art from around the world. The museum's collection includes works by artists such as Jackson Pollock, Mark Rothko, and Claes Oldenburg. The museum is also known for its architecture, a work of art.
The Fort Worth Herd is a twice-daily cattle drive in Fort Worth, Texas. The event is a reenactment of the cattle drives in the city in the late 1800s and early 1900s. The drive starts at the Fort Worth Stockyards and features a herd of Texas longhorn cattle driven down Exchange Avenue by cowboys on horseback. The Fort Worth Herd cattle drive is free and takes place every day at 11:30 am and 4:00 pm, except on Christmas and New Year's Day.
Billy Bob's Texas is a honky-tonk dance hall in Fort Worth, Texas. It is the world's largest honky-tonk known for its live music, mechanical bull riding, and Texas-themed decor. The venue is a popular tourist destination, and it has featured performances by numerous country music stars and other genres. The venue regularly hosts live music performances, from local artists to big-name acts.
Texas Shuttle is a transportation service that provides shuttle service from airports and other locations around Texas. The company offers a shuttle service for events and group transportation, corporate transportation, and private charter service. They have experienced, professional, friendly drivers who will ensure safe and timely transportation. For more information, contact (817) 403-6196.