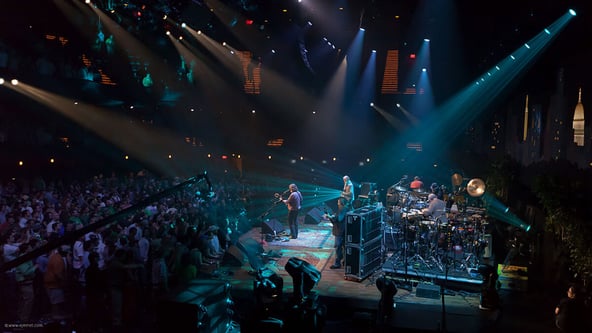 The Austin City Limits (ACL) Music Festival is an annual celebration in Austin, Texas. It is held over two consecutive weekends in October and features a diverse lineup of music acts from various genres, including rock, country, hip-hop, and indie. The festival is in Austin's Zilker Park, located near downtown Austin. ACL has been running since 2002 and is one of the most loved music festivals in the United States, attracting thousands of visitors each year. The festival is known for its high-quality production values and consistently booking a diverse and exciting lineup of music acts.
The Houston Livestock Show and Rodeo, also popular as RodeoHouston, is an annual event in Houston, Texas. The rodeo is a sanctioned event by the Professional Rodeo Cowboys Association (PRCA) and a stop on the PRCA Rodeo Circuit. It is typically held in late February or early March and features a variety of events, including a rodeo, livestock show, and carnival. The concert series is another significant component of the RodeoHouston, featuring a wide range of music acts that perform each night of the event. The performers are mostly country music acts, including pop, rock, and other genres.
The Texas Renaissance Festival (TRF) is an annual event in Todd Mission, Texas, about an hour northwest of Houston. It typically runs for eight weekends, beginning in late September and ending in November. The festival is a recreation of a 16th-century European village, with visitors encouraged to wear costumes and immerse themselves in the Renaissance era. The festival features a variety of entertainment, including live music, theater performances, and comedy acts. Various artisans and vendors also sell handmade crafts, clothing, and food.
The Viva Big Bend Music Festival is an annual event in Texas that features various musical acts, including country, rock, blues, and more. The festival takes place in Alpine, Marfa, and Fort Davis and features performances by both local and national musicians. It typically takes place in the summer and runs for several days. The festival includes arts and crafts vendors, food, and other activities. It is an excellent opportunity for music lovers to discover new artists and enjoy live performances in a beautiful outdoor setting.
Texas shuttle provides transportation from major airports to various locations in the state. They offer services to and from Austin, Houston, San Antonio, and Dallas/Fort Worth airports, as well as other destinations in Texas. They have a fleet of vehicles to accommodate all group sizes and offer private, group, and corporate transportation. Our company provides a reliable and comfortable way to get around Texas, which could be an excellent option for travelers seeking transportation.