Dallas is known for many things, and its vibrant art scene is one of them. The city is a must-visit destination for art lovers with its museums, galleries, and public art installations. If you want to explore the art of Dallas, hop on board the Texas Shuttle and let's dive in!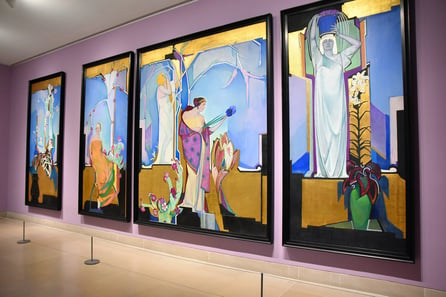 Dallas Museum of Art
The Dallas Museum of Art (DMA) is one of the city's most iconic art institutions. Founded in 1903, the museum has an impressive collection of over 24,000 works of art spanning over 5,000 years. From ancient artifacts to contemporary works, the DMA has something for everyone. Check out the museum's special exhibitions and events for an even more immersive experience.
Nasher Sculpture Center
The Nasher Sculpture Center is a must-visit destination for lovers of contemporary sculpture. The museum's collection boasts over 300 works by some of the most significant sculptors of the 20th and 21st centuries, including works by Auguste Rodin, Henry Moore, and Richard Serra. Be sure to explore the museum's beautiful outdoor sculpture garden, which features rotating exhibitions throughout the year.
Crow Museum of Asian Art
It is a hidden gem in the heart of downtown Dallas. The museum's collection includes over 1,000 works of art from China, Japan, India, and Southeast Asia, including paintings, sculptures, and ceramics. The museum hosts various cultural events throughout the year, including festivals, performances, and workshops.
Galleries
Dallas is home to a thriving art scene, with numerous galleries showcasing works by local and international artists. Some of the best galleries to visit include the Talley Dunn Gallery, the Holly Johnson Gallery, and the Conduit Gallery. Check out their websites for information on current exhibitions and upcoming events.
Public Art Installations
Dallas has several impressive public art installations, including the Pegasus and Flying Red Horse sculptures in downtown Dallas and the Trinity River Audubon Center's bird sanctuary sculptures. Stroll through the city and watch for the many murals, sculptures, and installations adorn its streets and public spaces.
Exploring the art of Dallas is easy with Texas Shuttle. Our comfortable and reliable shuttle service can take you to the city's top art destinations so that you can focus on the art and not the hassle of driving and parking. Book your shuttle today and get ready for an art-filled adventure in Dallas!