Texas is known for its big cities and sprawling metropolises, but it also has a wealth of small towns worth exploring. These charming towns offer a slower pace of life, friendly locals, and unique attractions that showcase the state's rich history and culture. With Texas Shuttle, you can quickly get off the beaten path and discover the hidden gems of Texas' small towns. Here are a few of the best small towns to explore with Texas Shuttle: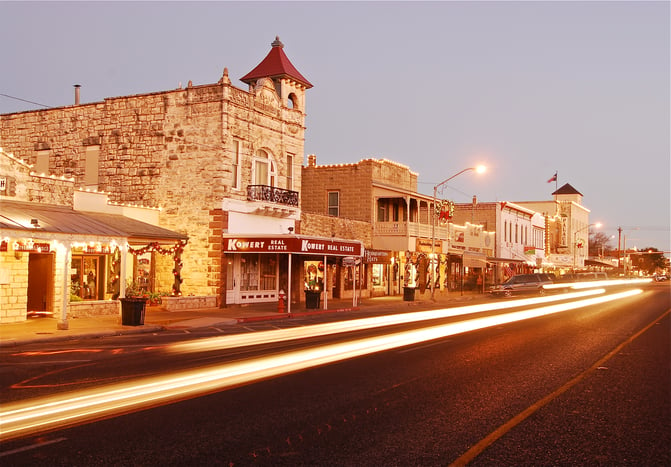 Fredericksburg
In the heart of Texas Hill Country, it is a picturesque town with German roots. Visitors can explore the town's historic Main Street, sample local wines at nearby wineries, and take in the natural beauty of the surrounding hills.


Marfa
This quirky West Texas town is famous for its art scene and unique desert landscape. Visitors can explore the town's many art galleries and installations, hike nearby Big Bend National Park, and stargaze at the famous Marfa Lights.


Gruene

This historic town near San Antonio is known for its country music and dance hall, Gruene Hall. Visitors can also explore the town's historic district, take a river float on the nearby Guadalupe River, and sample Texas barbecue at the Gristmill Restaurant.


Jefferson
In East Texas, Jefferson is a charming town with a rich history. Visitors can take a riverboat tour on the nearby Big Cypress Bayou, explore the town's many historic homes and buildings, and enjoy local festivals and events throughout the year.


Wimberley
Nestled in the center of Texas Hill Country, Wimberley is a small town with a big personality. Visitors can shop for local art and crafts at the many boutiques and galleries, swim in the nearby Blue Hole, and take in the stunning views from Mount Baldy.


Texas Shuttle is a transportation service company that provides safe, reliable, and affordable travel options across Texas. The company offers a range of transportation services, including airport shuttles, charter buses, and private car services, making it easy for customers to get to their destinations safely and comfortably. With Texas Shuttle's convenient and reliable transportation services, exploring these small towns has always been challenging. With a focus on customer satisfaction, Texas Shuttle is committed to providing exceptional service and ensuring that customers have a stress-free and enjoyable travel experience. Whether you're traveling for business or leisure, Texas Shuttle is a convenient and reliable option for transportation in Texas.
Whether you're traveling solo or with a group, we have a variety of vehicles to suit your needs. Book your ride today and get ready to discover the charm and character of Texas' best small towns.