A road trip focuses on the journey rather than the destination. During a road trip, you may encounter a variety of landscapes, cultures, and experiences. Some popular road trip destinations in Texas include the scenic Hill Country, the Gulf Coast, and the Big Bend National Park.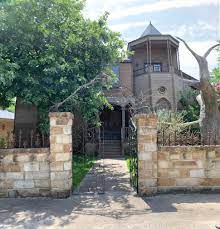 The Munster Mansion Replica is a replica of the fictional home of the Munster family, as seen in the 1960s television show "The Munsters." The replica was built in Waxahachie, Texas, and is open for tours. It features replicas of the show's sets and props, and memorabilia from the front. The replica is also available for private events such as weddings and parties.
Tex-Czech Kolaches are a type of pastry that originated in the Czech community in Texas. They are similar to the traditional Czech pastry known as kolache but with a Texan twist. They can be found in bakeries and delis in Texas, particularly in the West. They are a popular breakfast food, and many locals and tourists visit Tex-Czech bakeries to taste these delicacies.
The Waco Mammoth National Monument is a preserved dig site featuring the remains of mammoths, as well as other Ice Age animals. The site is believed to have been a sinkhole where the mammoths became trapped and died, and the remains were preserved by mineral-rich water. It is a unique opportunity to see the remains of these ancient creatures and understand the past.
Buc-ee's is a chain of country stores and gas stations located in Texas, known for their large size and cleanliness. The stores are typically much larger than a traditional convenience store, often spanning over 50,000 square feet, and offer a wide variety of products, including snacks, drinks, souvenirs, and even fresh food like sandwiches and pastries. They also have a loyal fanbase, many of whom have Buc-ee's merchandise such as t-shirts, stuffed animals, and even license plates.
Robertson's Hams & the Choppin' Block is a meat processing company located in Hearne, Texas. They are known for their high-quality hams and smoked meats, which are hand-crafted using traditional methods passed down through generations. The Choppin Block is a retail store and deli that offers a variety of products, including the company's meat products and other local products such as cheeses, sauces, and jellies. They also offer sandwiches, sides, and other menu items to enjoy in-store or to go.


Texas Shuttle Service is a transportation company that provides shuttle services for various events, groups, and individuals in Texas. They offer airport transfer, corporate transportation, special events, and tours. They also may provide a variety of amenities and services, such as Wi-Fi, charging ports, professional drivers, and more. Book your ride today and contact us at (817) 403-6196 for more information.