Texas is a state that is often associated with big cities like Houston, Dallas, and Austin. However, there is much more to this vast and diverse state than just urban centers. Many hidden gems are waiting to be discovered in the small towns and rural areas that lie beyond the city limits. And the best way to explore these places is with the Texas shuttle.
In this blog post, we will take you on a journey beyond the big cities and into the heart of rural Texas, exploring some of the state's most charming towns and picturesque landscapes easily accessible by shuttle.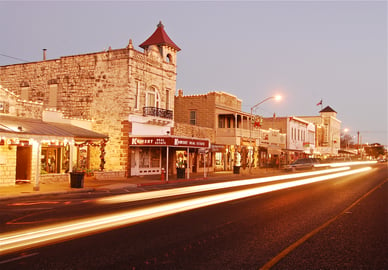 Explore Fredericksburg, the "Peach Capital of Texas"
In the center of the Texas Hill Country, Fredericksburg is a charming small town famous for its German heritage and juicy peaches. Take a shuttle to this quaint town to experience its unique blend of Texas and German culture. Visit the National Museum, dedicated to the men and women who fought in the Pacific during World War II. Or, stroll along Main Street and explore the town's many boutiques, art galleries, and antique stores. Be sure to taste some of Fredericksburg's famous peaches and visit one of the many wineries in the area.
Discover the Artistic Oasis of Marfa
Marfa is a small town in the middle of the West Texas desert that has become a hub for contemporary art and culture. Take a shuttle to this artistic oasis and explore the town's galleries, installations, and museums. Take advantage of the Chinati Foundation, a museum founded by artist Donald Judd that features large-scale installations by some of the most important contemporary artists of the last century. Be sure to check out the Marfa Lights, a phenomenon that has puzzled visitors for decades.
Wimberley, a hidden gem
Wimberley is a small town in the Texas Hill Country famous for its natural beauty and relaxed pace of life. Take a shuttle to this hidden gem and spend a day exploring its many parks, trails, and swimming holes. Visit the Blue Hole Regional Park, known for its crystal-clear water and shaded picnic areas. Or, take a stroll through the Wimberley Market Days, one of the largest outdoor markets in the state.
In conclusion, Texas has much more to offer than just big cities. By taking the Texas shuttle and exploring the state's small towns and rural areas, you can discover a side of Texas that you never knew existed. Whether interested in history, art, nature, or just getting away from it all, rural Texas has something for everyone.