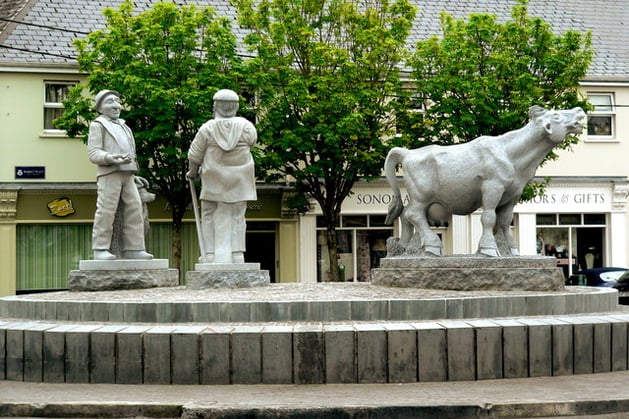 Ennis is a city located in Ellis County, Texas. It is known for its charming downtown area and proximity to the National Bluebonnet Trail, a popular spot for wildflower viewing. Ennis is also home to the Ennis Railroad and Cultural Heritage Museum, showcasing the city's history and connection to the railroad industry. Other notable attractions in Ennis include the Texas Motorplex, a drag racing venue, and the Ennis Public Theatre, a restored 1920s movie theater. Ennis is a great place to stop and explore on a road trip from Dallas to Houston.
Brenham is a city in Washington, Texas. It is known for being the home of Blue Bell Creameries, one of the largest producers of ice cream in the United States. Brenham is a popular tourist destination, with visitors flocking to tour the Blue Bell factory and sample some of its famous ice creams. In addition to the creamery, Brenham offers a charming downtown area with antique shops, art galleries, and historic homes. Brenham is a must-visit stop on any road trip from Dallas to Houston.
Huntsville is a city located in Walker County, Texas. It is known for being the home of Sam Houston, a key figure in Texas history and one of the state's most famous citizens. The famous Sam Houston Memorial Museum is located in Huntsville, dedicated to preserving and showcasing the life and legacy of Houston. Visitors can also see the Sam Houston Statue, a towering bronze statue of Houston on horseback, located on the museum grounds. Huntsville is a unique and exciting stop on any road trip from Dallas to Houston.
The Kemah Boardwalk is a popular tourist attraction located in Kemah, Texas. It is a waterfront entertainment complex with amusement park rides, restaurants, and interests, including a classic wooden roller coaster and a giant Ferris wheel. The Kemah Boardwalk is a perfect spot to spend an afternoon or evening, with plenty of activities and sights to keep visitors entertained. The boardwalk is also a popular spot for sunsets.
The Menil Collection is a museum located in Houston, Texas that showcases contemporary art from around the world. It was founded by the late Dominique and John de Menil and is considered one of the top collections of modern art in the United States. The museum's holdings include works by artists such as Pablo Picasso, René Magritte, and Max Ernst, among others. In addition to its extensive art collection, the Menil Collection is known for its innovative architecture and peaceful, park-like setting.


Texas Shuttle is a transportation service that operates in Texas, providing convenient and reliable transportation between cities such as Houston, Austin, and San Antonio. We offer daily shuttle services with multiple departures and arrival times, making it easy for travelers to get to their destination without the hassle of driving or navigating public transportation. For more information, contact (817) 403-6196.