Houston, Texas, may be known for its bustling downtown area and famous attractions, but the city has plenty of hidden gems waiting to be explored. From unique museums to beautiful parks, many underrated spots offer a different perspective on the city. With Texas Shuttle, you can easily travel to these off-the-beaten-path destinations and discover a side of Houston that many tourists miss.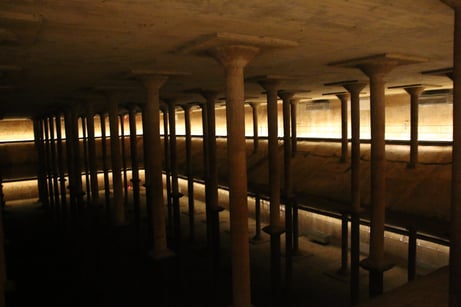 Menil Collection
Tucked away in a quiet neighborhood, the Menil Collection is a free museum that boasts an impressive collection of art and artifacts from ancient to contemporary times. The museum is located in a beautiful park-like setting and includes pieces by artists such as Henri Matisse, René Magritte, and Jackson Pollock.
Buffalo Bayou Park Cistern
Located beneath Buffalo Bayou Park, the Cistern is a 1926 underground city reservoir repurposed into a unique public space. Visitors can tour the Cistern to explore the cavernous space and see the mesmerizing installation "Rain" by artist Magdalena Fernández.
Gerald D. Hines Waterwall Park
Located near the Galleria mall, the Gerald D. Hines Waterwall Park is a tranquil oasis in the city's heart. The park's main attraction is a 64-foot-tall fountain that sends water cascading down in a mesmerizing display. The lush green space is perfect for a picnic or a relaxing stroll.
Houston Arboretum and Nature Center
Just minutes from the bustling downtown area, the Houston Arboretum and Nature Center is a peaceful escape from the city's hustle and bustle. The 155-acre nature reserve includes trails, ponds, and gardens home to various wildlife. Visitors can take a tour or explore on their own.
The Orange Show Monument
Created by eccentric Houston postal worker Jeff McKissack, The Orange Show Monument is a unique folk art installation made from found objects such as bricks, tiles, and tractor seats. The brightly-colored maze-like structure is a must-see for anyone interested in outsider art.
Houston Graffiti Building
The Houston Graffiti Building is a colorful tribute to street art in the city's East End neighborhood. The entire exterior of the building is covered in graffiti and murals by local artists. Visitors can admire the artwork and take plenty of Instagram-worthy photos.
With Texas Shuttle's comfortable and reliable transportation services, getting to these hidden gems is a breeze. Our shuttles have air conditioning, comfortable seating, and ample storage space for your luggage. Our professional drivers will get you to your location safely, and on time, so you can spend more time exploring all of Houston's offers.