If you're looking for the best barbecue and comfort food in the country, look no further than Houston, Texas. With a rich culinary heritage, the city offers a wide assortment of dishes that satisfy any foodie. And with Texas Shuttle's convenient and reliable transportation services, you can easily explore all the city's best food spots without the hassle of navigating through traffic or worrying about parking. Here's a guide to some of Houston's must-try barbecue and comfort food options: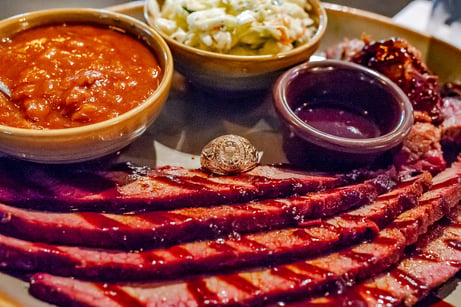 Killen's Barbecue: Located in the Houston suburb of Pearland, Killen's Barbecue is a must-visit for any barbecue lover. Owner and pitmaster Ronnie Killen have won numerous awards for his brisket, ribs, and sausage, and the sides like mac and cheese and creamed corn are just as delicious.
The Breakfast Klub: This popular breakfast spot is known for its chicken and waffles but also offers other classic breakfast dishes like pancakes and eggs. Be prepared for a line, but the food is worth the wait.
Gatlin's BBQ - Gatlin's is a family-run business that has been serving delicious barbecue since 2010. Their brisket, ribs, and homemade sausage are all must-tries, and sides like potato salad and green beans are also popular.
Hay Merchant - This gastropub offers an elevated take on classic comfort foods like burgers, mac and cheese, and fried chicken. They also have an extensive beer selection and a laid-back atmosphere.
Tacos Tierra Caliente - For some of the best tacos in the city, head to Tacos Tierra Caliente. Their pastor tacos are a favorite, but they offer other options like barbacoa and lengua.
Feges BBQ - Feges is a modern barbecue joint that offers creative takes on traditional dishes, like smoked turkey breast and brisket burnt ends. The sides like jalapeño cheese rice and fried cauliflower are also worth trying.
The Turkey Leg Hut: This popular spot is known for its massive turkey legs, which come in various flavors like Cajun, lemon pepper, and garlic butter. They also offer other Southern comfort foods like mac and cheese and fried corn.
Tejas Chocolate Craftory - This unique spot combines two of Houston's favorite things - barbecue and chocolate. They offer savory dishes like brisket and pulled pork and sweet treats like chocolate truffles and s'mores.
With Texas Shuttle's comfortable transportation services, you can easily visit all these delicious food spots and more in Houston. Our shuttles have air conditioning, comfortable seating, and ample storage space for your luggage. Our experienced drivers will get you to your destination safely and on time.