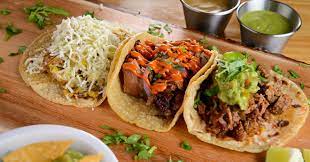 Start your day in Dallas with a visit to the Dallas Arboretum and Botanical Garden. This stunning 66-acre park is home to various beautiful gardens and landscapes, including the Rory Meyers Children's Adventure Garden, the DeGolyer Estate, and the 17-acre Alex Camp House & Gardens.
Visitors can stroll through the gardens, admire the colorful flowers and lush greenery, or learn about the plants and nature in the park's educational exhibits. The Dallas Botanical Garden is a perfect spot for anyone looking for a peaceful and relaxing start to their day.
Head To Klyde Warren Park For Lunch
After you visit the Arboretum and Botanical Garden, head over to Klyde Warren Park for lunch. This 5.2-acre park is located in downtown Dallas and is popular with locals and visitors. Klyde Warren Park features a variety of dining options, including food trucks, cafes, and restaurants, so you can find something to suit your tastes and budget. The park is also great for relaxing and enjoying the outdoors, with plenty of green space, gardens, and seating areas.
After lunch, go to the Perot Museum of Nature and Science, one of Dallas' premier cultural attractions. The museum features a range of exhibits and activities that explore the natural world and the wonders of science.
Visitors can enjoy interactive exhibits that cover topics such as paleontology, earth sciences, and the human body, as well as hands-on activities that allow them to experience science and technology firsthand. The museum also features a state-of-the-art planetarium, a theater that shows educational films, and several special exhibitions throughout the year.
End your day in Dallas with a shopping trip to North Park Center, one of the city's premier shopping destinations. This upscale indoor mall features over 235 stores and restaurants, including many of the world's top fashion and lifestyle brands.
Whether looking for high-end fashion, luxury goods, or unique gifts, NorthPark Center has something for everyone. The mall also features several restaurants and cafes so that you can eat or relax with a coffee or cocktail.
With that, your second day in Dallas has come to an end. Texas Shuttle is a shuttle service based in Texas that provides convenient, reliable, and affordable transportation for individuals and groups. Whether looking for airport transportation, a city tour, or a memorable event trip, Texas Shuttle has the experience and resources to make your travel easy and enjoyable. The company's knowledgeable and friendly drivers ensure that you arrive at your destination safely. On time, you can relax and enjoy your trip without worrying about traffic or parking.