Whether you're interested in music, food, art, or just having a good time, a celebration in Texas is perfect for you. Texas is known for its rich culture and vibrant energy, which is reflected in the many festivals and events throughout the state. In this blog, we'll provide you with a guide to some of the best Texas festivals and events to experience the state's vibrant culture for yourself.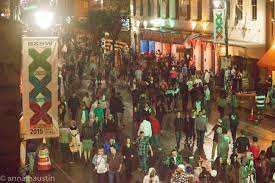 South by Southwest (SXSW)
South by Southwest (SXSW) is an annual Austin music, film, and interactive festival. The festival marks performances by some of the biggest names in the music industry, as well as film screenings, panel discussions, and interactive exhibitions. With thousands of attendees and hundreds of performers, SXSW is a must-see event for anyone who loves music, film, or technology. SXSW is the perfect place to start if you're looking for a unique and thrilling experience in Texas.


Texas Renaissance Festival
The Texas Renaissance Festival celebrates medieval culture and tradition in Todd Mission, Texas. This unique event is held over several weekends in the fall and features live music, jousting tournaments, food and drink, and various interactive experiences. Whether you're a fan of medieval history or just looking for a fun day out, the Texas Renaissance Festival is a must-visit event.


Hot Air Balloon Festival
The Hot Air Balloon Festival is a vibrant and colorful celebration in several different locations throughout Texas. This event features hot air balloon rides, live music, food and drink, and a variety of other activities. With a range of different balloon designs and colors, the Hot Air Balloon Festival is a truly spectacular sight to see.


Food and Wine Festivals
Texas is home to several food and wine festivals, including the Austin Food & Wine Festival, the Grapefest in Grapevine, and the Texas Wine & Art Festival in Fredericksburg. These events offer a chance to sample some of the best food and drink Texas offers and learn about the state's rich culinary heritage. Whether you're a foodie or just get for a delicious experience, Texas' food and wine festivals are to be noticed.


Music Festivals
Music is an integral part of Texas culture, reflected in the many music festivals throughout the state. The Austin City Limits Music Festival to the Free Press Summer Festival in Houston, Texas, has a festival for every musical taste. With performances by established and up-and-coming artists, these events are a fascinating way to experience the state's vibrant music scene.



In conclusion, Texas Shuttle is a convenient and comfortable way to explore Texas. With various routes and services, you can easily travel from one part of the state to another, allowing you to see more of what Texas offers. Additionally, Texas Shuttle provides a range of amenities, including comfortable seating, air conditioning, and Wi-Fi, making your trip even more enjoyable. So why plan your trip today and experience the state's vibrant energy?