There's no better way to explore Lone Star State's natural beauty than by hitting the road and embarking on a scenic drive. From rolling hills and rugged canyons to pristine beaches and towering forests, Texas has something for everyone. And with Texas Shuttle, you can take your road trip to the next level, enjoying the journey as much as the destination. Here's a guide to some of Texas' most scenic drives and roadside attractions.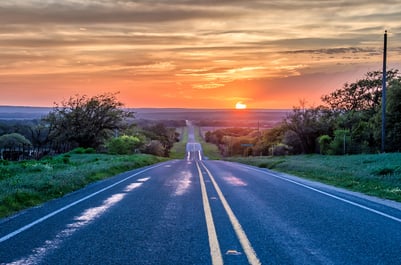 Hill Country Drive
The Hill Country Drive is a 200-mile loop that takes you through some of Texas' most picturesque landscapes. You'll wind through rolling hills, pristine rivers, and charming small towns, including Fredericksburg and Kerrville. Stop at Enchanted Rock State Natural Area, a massive pink granite dome with stunning panoramic views.
Gulf Coast Drive
The Gulf Coast Drive is a 350-mile stretch along the Gulf of Mexico. You'll pass through charming coastal towns like Rockport and Port Aransas and have plenty of opportunities to stop and take in the sea breeze. Take advantage of Padre Island National Seashore, a 70-mile stretch of undeveloped barrier island home to pristine beaches and abundant wildlife.
Big Bend Loop
The Big Bend Loop is a 250-mile drive that takes you through the rugged terrain of West Texas. You'll pass through the majestic Big Bend National Park, where you can hike, camp, and enjoy the stunning views of canyons, deserts, and mountains. Take advantage of the Santa Elena Canyon, a breathtaking gorge the Rio Grande River carves out.
Palo Duro Canyon Drive
The Palo Duro Canyon Drive takes you through the second-largest canyon in the United States. Located in the Texas Panhandle, It is a natural wonder often called the Grand Canyon of Texas. The drive takes you through rugged red rock formations and towering cliffs, with plenty of opportunities to stop and enjoy the views.
East Texas Piney Woods Drive
The East Texas Piney Woods Drive takes you through the lush forests of East Texas, where you can see towering pine trees and pristine lakes. Take advantage of Caddo Lake State Park, where you can take a canoe tour through the scenic waterways and see the mysterious cypress trees draped in Spanish moss.
In conclusion, a scenic road trip in Texas is an experience to be noticed, and Texas Shuttle can help you make the most of it. From Hill Country to the Gulf Coast, Big Bend to Palo Duro Canyon, and the East Texas Piney Woods, Texas has plenty of breathtaking landscapes and hidden gems waiting to be explored. So why not book your next road trip with Texas Shuttle and embark on an unforgettable adventure through the Lone Star State?